Make the best use of your engineering skills here in Japan!
Global Point
Enjoy peace of mind of work backed by Adecco Group with branches in more than 20 countries all over the world.
---
【About Modis 】
Modis is a temp staffing firm dedicated to professional IT, engineering, and life sciences solutions as an affiliate of Adecco Group, the global leader in manpower dispatching services.
With more than 30,000 engineers and consultants in over 20 countries around the world, Modis has deep resources.
Modis Japan specializes in IT and engineering, and has developed services for dispatching cutting-edge and highly skilled engineering talent.

"I found work in Japan, but haven't been able to capitalize on the skills I acquired back in my home country…"

These are precisely the candidates we are looking for! Our goal is to serve as intermediary between foreign engineers and corporate clients that are seeking engineering talent.
This was our primary purpose in establishing Modis, and remains our chief goal today.



【Support for a hassle-free work environment over the long term】
・Support visa renewal!
You can relax knowing that we are watching out for you, and have a system in place to assist in getting your visa renewed in a timely fashion.
・Modis support continues even after you leave Japan!
The Adecco Group is so widely deployed around the world, there's an excellent chance you can simply transfer to an Adecco affiliate and resume work in your home country. This greatly reduces the anxiety of looking for another job after leaving Japan!
---



Modis has dealings with over 10,000 business firms, including some of the largest and best-run companies in Japan. Naturally, this opens the way to a wide range of engineering and IT projects!


The range and scale of our clientele cuts across diverse industries including systems integrators, telecom carriers, consulting firms, think tanks, space and aircraft equipment manufacturers, automakers and auto parts manufacturers, as well as manufacturers of robotics systems, mobile phones, semiconductors, and precision instruments. When considering an engineer for a position, we try to find the perfect fit by first listening to what the individual engineer is looking for. We then conduct a career consultation and decide upon a good assignment for both the engineer and the client.
We make it easy for our engineers to achieve their goals, so Modis is the perfect environment for professional engineers to upgrade and enhance their skills !

Benefits/Environment
We offer a stable, long-term work environment, and an excellent rate of return for engineering wages!
---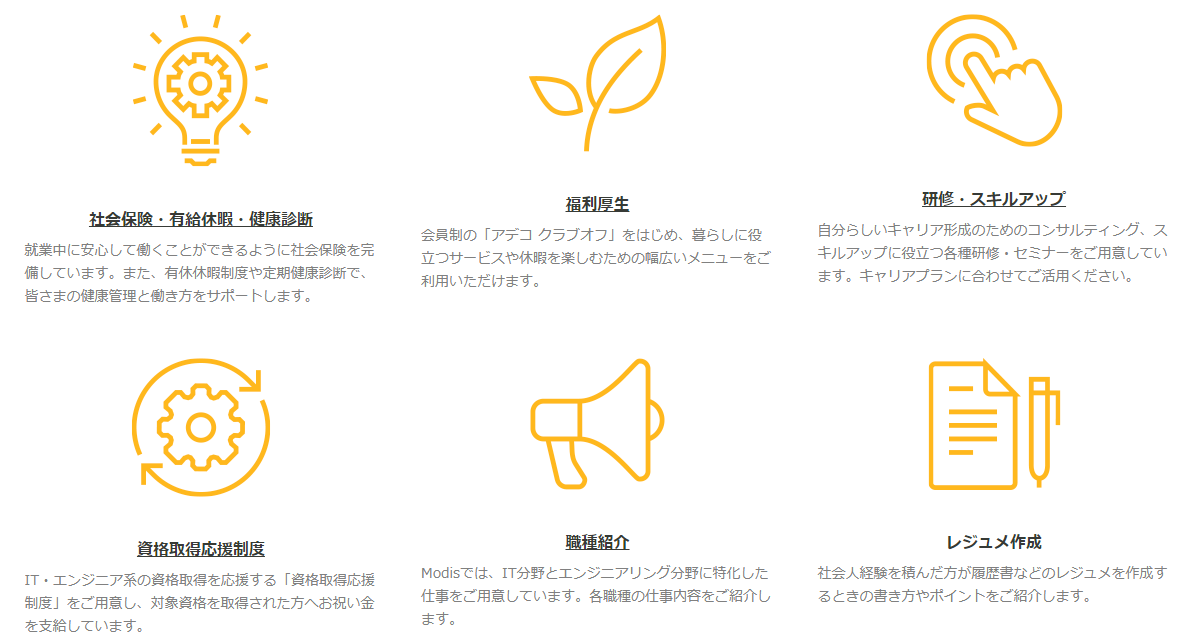 By exploiting advanced technology that streamlines and optimizes our work procedures, Modis has been able to significantly reduce internal business costs which enables us to be more generous with wages for our full-time engineers.

Modis has also developed a 25-tier wage scale based on assessment of performance and experience. Wages are evaluated and revised twice a year, which gives Modis engineers long-term job stability.





Average overtime will depend on the individual

, but

the overtime allowance for up to 20 hours per month is 100% the regular wage rate.
If a Modis engineer is unable to work overtime due to special circumstances, rest assured Modis will inform the client.
Assignment to a remote location may make it harder to communicate with friends and colleagues, but Modis provides tools and opportunities to socialize so engineers do not feel isolated and cut off.
Rest assured that a Modis rep will continue to follow-up and provide one-on-one support even after you have been assigned. Isn't it time that you considered joining Modis so we can start working together in building your career!
You Might be Interested In