Paris, 30 March 2017 - IB-Remarketing and its subsidiaries (AS-LEASE, GREENSYSTEMS, DCS, NEXEYA SERVICES), one of the largest IT infrastructure third party maintenance providers in the world, announces its change of name to becomes Evernex.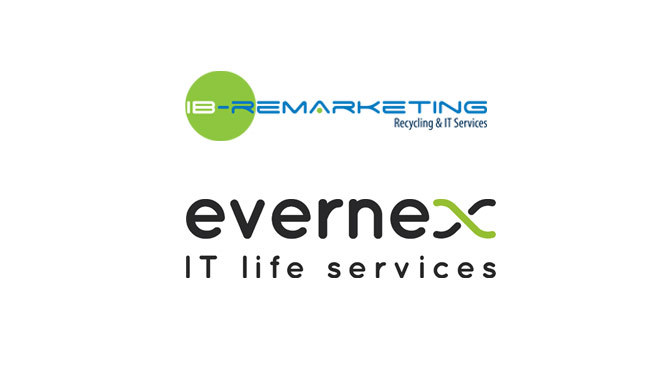 A carrier brand of the Group's ambitions
Founded 34 years ago in France, Evernex specializes in providing maintenance and support for datacenters and critical IT infrastructures. The group is majority owned by the investment fund, The Carlyle Group, with the remaining shares held by its management team.
Over the past 5 years, Evernex has continued it march to become the European leader and one of the largest third party maintenance providers in the world by heavily investing in its team, its technologies, and its infrastructure as well as completing several acquisitions in France and abroad and opening numerous subsidiaries around the world. This new steps aims at one primary objective: displaying a single unified identity that reflects our status as a leading international player.
"We hope that our new name reflects our group as it really is today and what it aspires to be for tomorrow. We are firmly committed to the support and maintenance of critical IT infrastructures. We needed to have a single brand, more dynamic and understandable to all with unifying values for all of our subsidiaries, our teams and our customers. It is important for us to continue our international expansion under one name " stated Bruno Demolin, President of Evernex.
A growing company in a changing market
Beyond sharing a common brand identity, Evernex has developed a single integrated operating platform spanning contracting, technical support, supply chain management, spare management and on-site delivery. This platform relies on its 24 offices and 330 stock locations in over 160 countries.
Evernex has the largest inventory of IT spare parts in the world with more than half a million spare parts deployed globally. The Group, with its 400 experts, including 200 highly specialized engineers, maintains over 200,000 IT infrastructure assets for over 5000 clients.
"We have significantly enhanced our business and have experienced a double-digit growth every year for 5 years. We are constantly evolving and our ability to adapt to the very different cultures and markets has helped us in supporting our customers around the globe by providing for them, a single contact for all their maintenance operations " commented Bruno Demolin, President of Evernex
A turning point for 2017
With its 24 subsidiaries and a network of international partners, the company recorded a turnover of 161 million EUR consolidated in 2016, a 79% growth compared to 2014. The Group has confirmed its leadership position in the European market and aims to become the sole contact for the operational maintenance of critical IT infrastructures to its customers, regardless of the brands, countries and the obsolescence level of their equipment.
About Evernex:
The French company, Evernex, which is majority owned by THE CARLYLE GROUP investment funds (NASDAQ: CG), specializing in the maintenance of IT infrastructure around the world through a comprehensive range of services, including maintenance contracts, Spare as a Service – SPaaS ™, and other service arrangements. Additionally, Evernex provides services such as recycling, secure data disposal, data center removal and relocation, tape library repair, IT Hardware Rental and financial solutions
Evernex operates 24/7/365 across thousands of customer sites worldwide to ensure business continuity and the operational quality for users through a protection strategy for the environment and sustainable development. Evernex generates three quarters of its business services internationally and covers over one hundred and sixty countries across the globe. The group recorded a consolidated turnover of € 161 M in 2016.